"Any ideas?" I spoke into my phone, hoping its battery would hold out for just a bit longer.
"I'm thinking…" said Tom, our kindly host and the voice on the other end of the phone.
I was standing in the middle of a tall, grassy field and my eyes found David Bolen, our cinematographer, as he rigged up our Alexa Mini-Angenieux combo to find the right camera angle on the swaying grass (we like things like this). Richard, our sound recordist sat on the hood of the rental minivan playing Pokémon GO. The voice on the other end came back.
"Well, there's Don." he said. "He's a real character. Built all the furniture up at the Inn by hand. Was a fisherman here on Fogo for years and years before that. He'd talk to you."
"Do you have his phone number?" I asked.
I find myself in this position a lot; in some far flung corner of the world imploring generous strangers on a 12% iPhone trying to nail down an interesting documentary subject that we can squeeze in on a rest day before we're forced to pack up and head to the nearest airport. We're suckers for beautiful stories and images, and we just can't seem to get enough.
This time, we were headed to a small, remote island (Perry's Island) off of another remote island (Fogo Island) off of another island (Newfoundland) to visit a holy place — the birthplace of our documentary subject. Perry's Island is very small and at its peak, was inhabited by 14 families, all of which were resettled in the 1950s. Today, you'd be lucky to find any remnant of life there.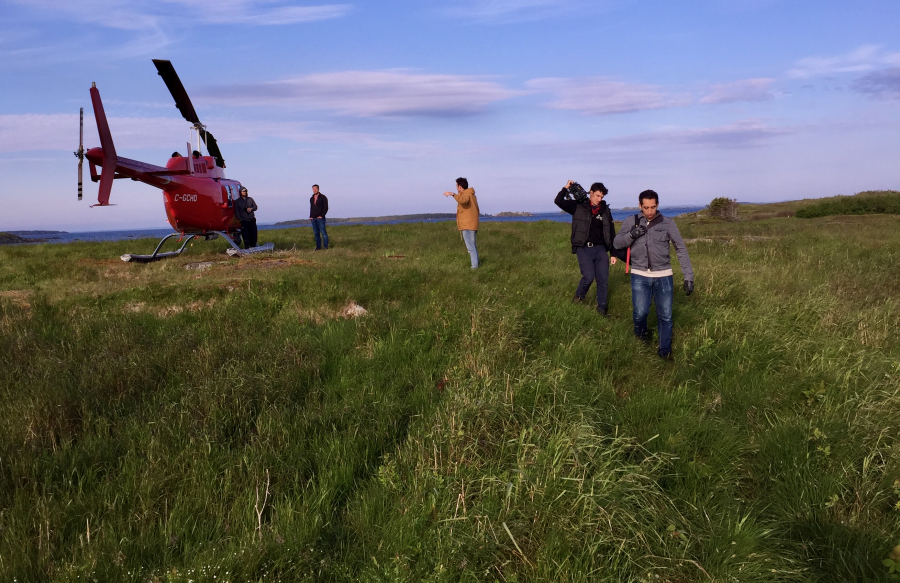 We were in for a big production. Aerial filming. Homocidal bovine. Staring a live cod named Dinner right in the eye.
To get there, our crew of three flew into Gander, Newfoundland, now famous and musicalized for where many of the waylaid passengers were forced to land and were taken in by locals on 9/11. Before that, it was a refueling spot for planes coming from Europe. After a two hour drive out of Gander (stopping for a golf umbrella, AA batteries and Tim Hortons ice caps on the way) we arrived at the ferry terminal. First stop, Change Islands, and the end of the line — Fogo Island, our destination. We parked and got out of the minivan – the air was balmy – an hour to wait before the ferry arrived. David started answering emails. I started trashing airline luggage tags and empty Tims cups.
"I wonder if Pokémon GO works here?" Richard said.
The lot filled up quickly over the next hour and we packed onto the hulking steel ferry. We were the first on – and so, the first off. Right at the front of the line. We all fell asleep and were jolted awake some time later just as the massive ferry door lowered down on land. BOOOOM. I started the car and fluorescent vested attendants lifted the chain.
"Here we go!" I said to wake the others. We zoomed off and up a windy paved road as I rolled down the windows and turned up the radio.
Freedom! Fogo!
Then we saw the sign."Welcome to the Change Islands".
Filled with a great irrational fear that we would be abandoned and have to live the rest of our natural lives on the Change Islands, we stopped, reversed back down the road, back onto the ferry where a gaggle of doubled over ferry attendants and Islanders had their halftime show for the day. I blushed. I wasn't the first mainlander who pulled that stunt and I wouldn't be the last. Onward to Fogo Island. I'll have to go back to the Change Islands some day.
The main event of this trip – a meticulously planned aerial shoot of Perry's Island – was on the front of my mind all the time. Would we get the light? Air to land communication. Cost of helicopter fuel. To get the the island, we had to track down and work a local named Harry who had been resettled and now had a home on Fogo Island in a little cove community called Stag Harbour. He was a wonderful man, impressive wood carver had a little boat and we piled in there to get out to Perry's Island.
We had flown in one of the best Cineflex (a special helicopter mount that gyro stabilizes the camera) operators in Canada from Toronto – Mike – and contracted a local helicopter company to fly us. Inside the Cineflex was an Alexa M with a Canon 30-300. The shot started extremely wide coming in on the island, wrapping around as we found our two subjects walking along an abandoned clearing. That was a suggestion from one of our EPs who said that aerial footage of the island would only be good if we had our subjects in the shot. Otherwise who cares? Good point.
The important thing to note in those rare cases when you're lucky enough to have a helicopter day, is that you just have to keep your head on straight and not think too much about how much it's all costing. It's very easy to pull up the calculator and figure out how much is being spent by the minute. But one must ignore those impulses and focus on the shot. And make sure that what we capture gives that huge, swelling, soaring roar in the chest of our audience when the film is done. That's why we're doing it, after all. Plus it's fun.
On the island we discovered a bull and his calf roaming the land. They were unusually friendly, what with the bull rubbing his head incessantly against everyone's leg and chasing down poor Harry, all of which kept distracting from a fascinating scene in which we uncovered an ancient graveyard at one end of the island. We even found graves for some of our subject's great-great-grand-uncles and such. Wow.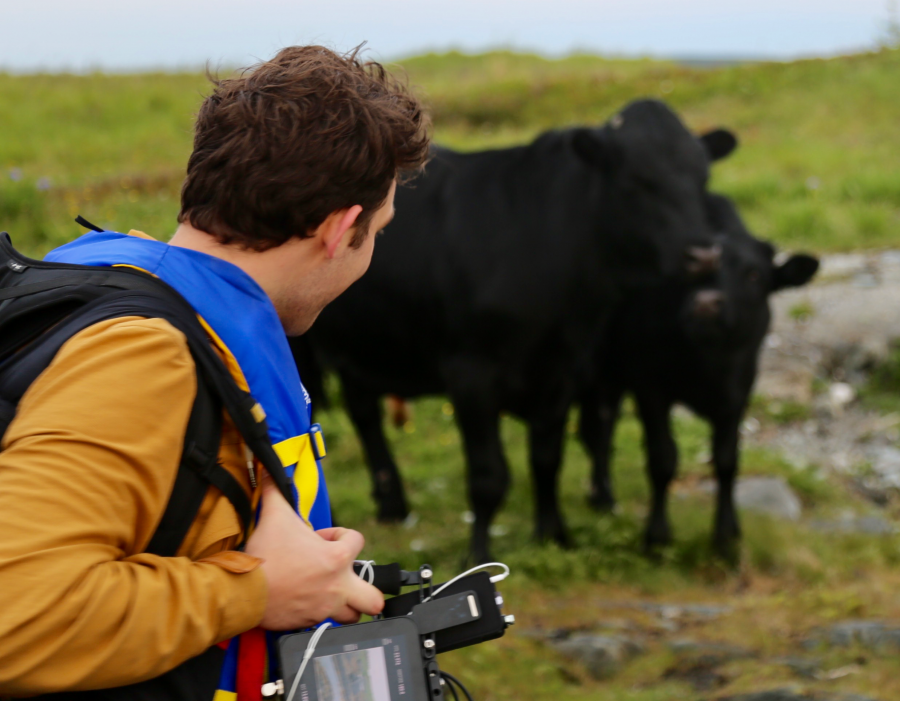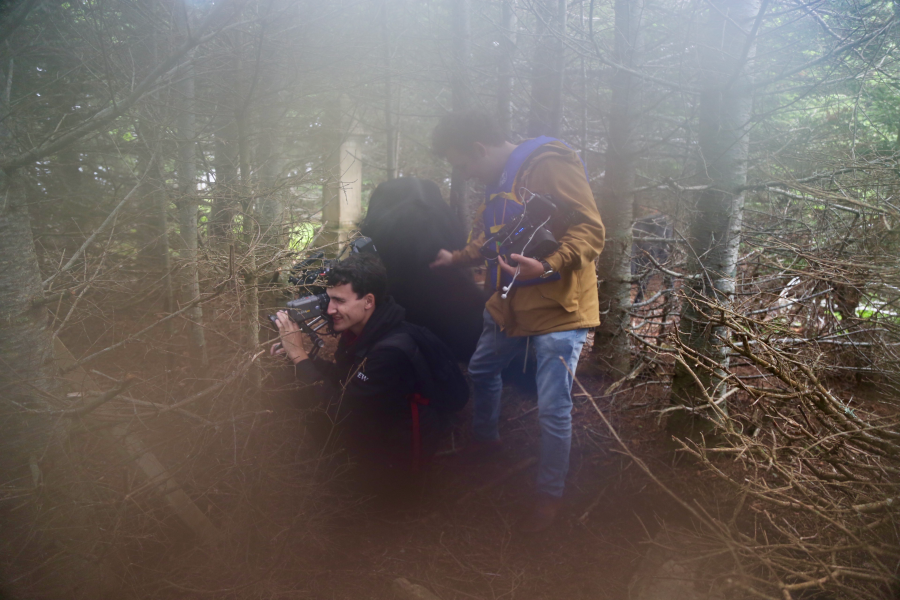 The first day of aerials we shot at dusk, but a technical glitch in the gimbal ruined the footage. It was overcast and we didn't get the colors that magic hour usually gifts us, so the day was for the birds. On the way back, I noticed my phone had bars and I FaceTimed my girlfriend Grace, a documentary editor in Los Angeles. She picked up and her and her director smiled ear to ear and waved. I showed them out the window of the helicopter and blew kisses. I felt pretty cool for about five minutes before remembering we just blew a helicopter day that cost as much as a small car.
The following morning was our only chance to get it right and the morning light was perfect. Everything cued up as we swooped around for our first pass. I called action down to our subject from the helicopter through the walkie. Mike and the pilot nailed it. Amazing technology and talent combined. Sometimes you know when a shot's going to be in the movie. This was one of those moments.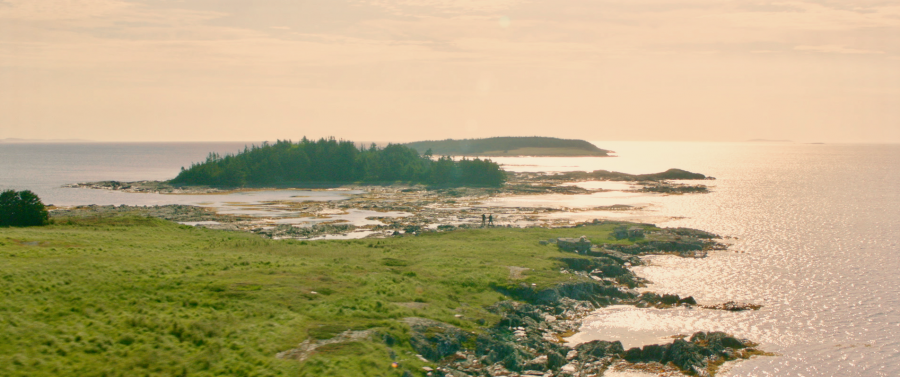 As we finished up and the chopper took some of our subjects back to the mainland, it left David and I alone on the island. The bull and calf, perhaps perturbed by our presence and the noise of the helicopter, started following us around. This was nothing new, but the bull's aggression was starting to rise. I started thinking – maybe these guys were dropped on this ultra-remote island for a reason? What started as something harmless quickly turned into the bull chasing me at full speed across the island. It turned real, fast. Is this really happening? At one point, I tripped over a field stone and fell, the bull's hooves thundering down around my head with David yelling and throwing rocks at it from ten feet back. I somehow got back on my feet and we took off toward the beach, escaping (barely) with our lives. I'll always remember taking off in the helicopter one last time and the bull and his calf watching us ascend into the sky. An ancient guardian of old Perry's Island.
Remember Don, the "real character who built all the furniture up at the Inn by hand"? Turns out Don was a lifelong fisherman-turned-carpenter who welcomed us into his workshop with classic Newfie hospitality. Don had indeed helped to build much of the furniture for the Fogo Island Inn, a luxury $20 million hotel that a millionaire Fogo Islander named Zita Cobb built in concert with the Fogo community to attract people to the incredible island. It proved to be a successful endeavor when we realized that while we were staying there, so was Gwyneth Paltrow.
Marcia Connolly and Katherine Knight made a wonderful documentary about the architecture on the island:

Don had recently injured his hand in the workshop so instead of making furniture we filmed him rooting around his attic, firing his old shotgun, and at some point he offered to take us fishing. Newfoundland is famous for the Grand Banks which fed the world with miracle plenty of cod for centuries — but last I had heard of it, the fish stocks were in trouble.
We loaded up the boat, gunned the outboard motor (or buzzer as it's called on Fogo) and headed out to sea, the salt air swirling around us. Hard to beat. We passsed a few When we got out there, Don stuck some bait fish on a hook and started lowering a leaded line into the water. There were dozens of grooves dug into the edge of the boat for the line to fall into.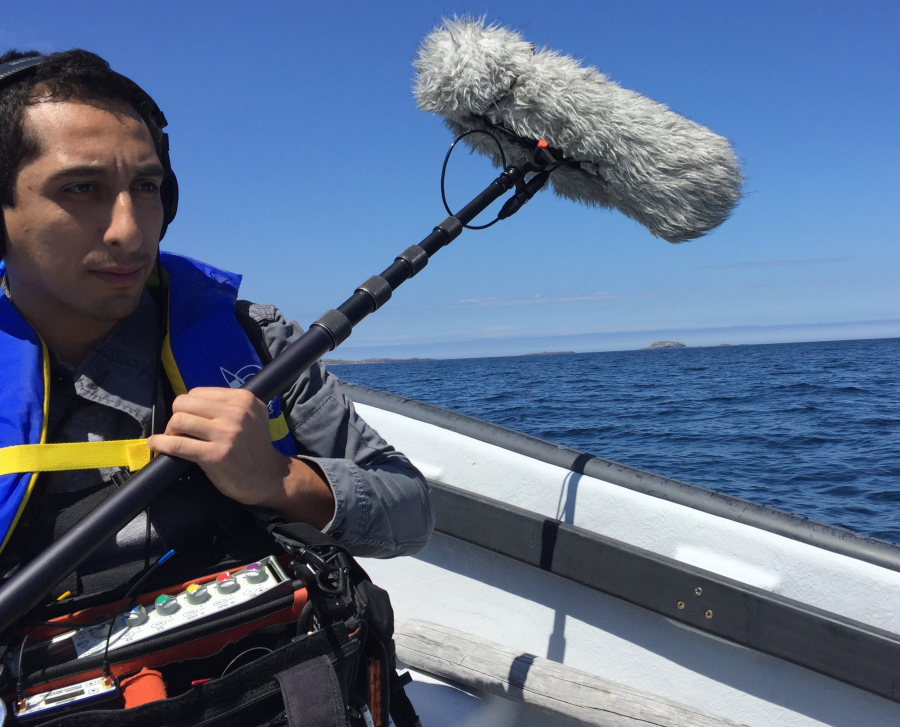 "When you feel some pull back, you got something." He said.
Within less than ten seconds, Don was pulling. We stared into the dark water, waiting to see what he has caught. Up came a cod, staring at us with a large, unblinking eye. It must have been two feet long and 20 pounds at least. Don quickly unhooked the fish and threw it in the space under his seat.
"Wanna go?" He asked.
You bet I did. Same thing and within 10 seconds I had a tug. I pulled up another 20 pounder into the boat. Now what.
"Now, put your hand in the mouth there and rip the hook right out of its mouth," Don said, "Go on."
I reached my hand into the cod's mouth and felt around. The hook was in deep into the inside of the cod's cheek.
"It's in deep." I said, hesitating.
"Yep, rip it out. If you can't do this, boy (or "b'y" as they say there), you've got no business at all eatin' fish!"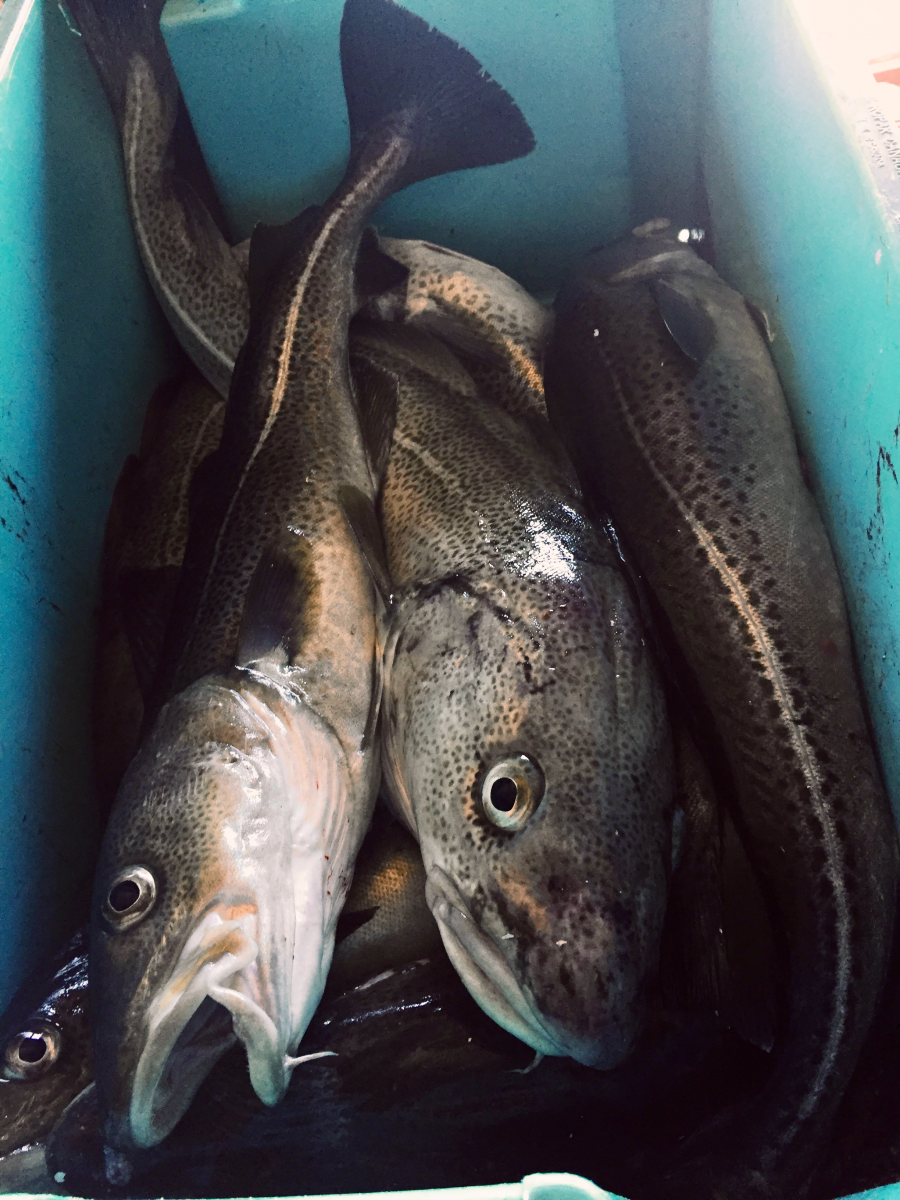 It took me a moment to shake off the Los Angeles reticence and channel my Nova Scotian roots, but. I did it. I grabbed the hook, looked the cod in its eye, and did the deed.
"Not so bad," I said, meeting horrified expressions in David and Richard, who was filming the whole thing with his phone. If I remember right, Richard caught one too but David threw his back. His heart was too big.
Within half an hour we were back on land, the fish cleaned, gutted and cut, and Don had put one of the cod we caught in a large pot on the stove with a chopped onion, a chopped potato, and a chunk of salt pork. It sat on the stove for twenty minutes and with that, we ate the most delicious briny stew. I am sure that was the freshest fish any of us have ever had.
"Some good." Don said. And it was. I remember shaking Don's hand as we said goodbye. It was warm and he looked me right in the eye. We had a good day together. What a guy. Always hard to say goodbye to friends like these.
We slept well.
The next morning, it was pouring sheets of rain as we pulled up to the airport and unloaded our numerous forest green camera cases onto a large cart. As we wheeled in, I gifted our golf umbrella to a couple of old boys headed to their car. Gene Kelly better be watching, I thought.
The marvelous little airport cafe was serving piping hot coffee and microwaved breakfast sandwiches swaddled in Saran wrap. We ate silently. Kings of of the sky, the sea, and Gander's only PokéGym.
Ben Proudfoot is Founder & CEO of Breakwater Studios.
Photos by Mike Risley, Ben Proudfoot & David Bolen.
Have a question, or have an idea of what you want us to write about? Email jeremy(at)breakwaterstudios(dot)com.