By the time Susan Kurtik called the Breakwater office back, she had every right to be sick of me.
We didn't really have much to go on, nor did we have many means of contacting Susan, just a newspaper article and an idea for a great documentary in our heads. So, over the course of a few days, I began the search.
I emailed a reporter from The San Diego Union-Tribune who wrote the article about Susan, asking for any contact information that she might have. I emailed and called another reporter who wrote a separate article about the Kurtiks. I called the Angels Foster Family Network and spoke to a couple different folks, asking if it wasn't too invasive to get an email address or phone number as we were pretty keen on talking to Susan to learn more about her life and discuss a potential documentary. I called my mom, Barbara Lambert, who works at NASA, to see if she's ever heard the name Susan Kurtik, if so, you got a phone number? If not, put me in touch with your NASA Jet Propulsion Laboratory folks! (Thanks, Mom, I love you) I even crossed over social media lines and sent Susan a message on Facebook. I got Dick Kurtik's email address and sent a message. I got Susan's phone number and left another message. All in all, if Susan's staring at her inbox, it's probably just piling up with my name, over and over again.
Now, there are two ways this usually goes. Either no one responds at all, or everyone responds at once. In this case, it was one hilarious case of the latter all within a space of about two hours.
The reporter, Pam Kragen (thank you Pam!), emailed back. Another person at the amazing Angels Foster Family Network called back and said they'd contact the Kurtiks for me. My mom got on the case and started asking around. Dick received my message and was contacting me back via the foster network. And then, of course, Susan called me.
Thankfully, she wasn't upset at all. This is probably a testament to who she is; a wonderful, patient, and extraordinarily kind person, in addition to being a foster parent and the veteran of brilliant and detail oriented work at NASA JPL's mission control for years.
Fast forward to a couple weeks later.
Ben Proudfoot our director/producer, David Bolen our cinematographer, Moni Salazar our on-set editor and DIT technician, Susan and Dirk Kurtik, and myself are all at the Kurtik home, asking her about everything under (and well beyond) the sun. Why did you and Dick decide to become foster parents? What was JPL like? Which missions were you a part of? What's next for this and that satellite?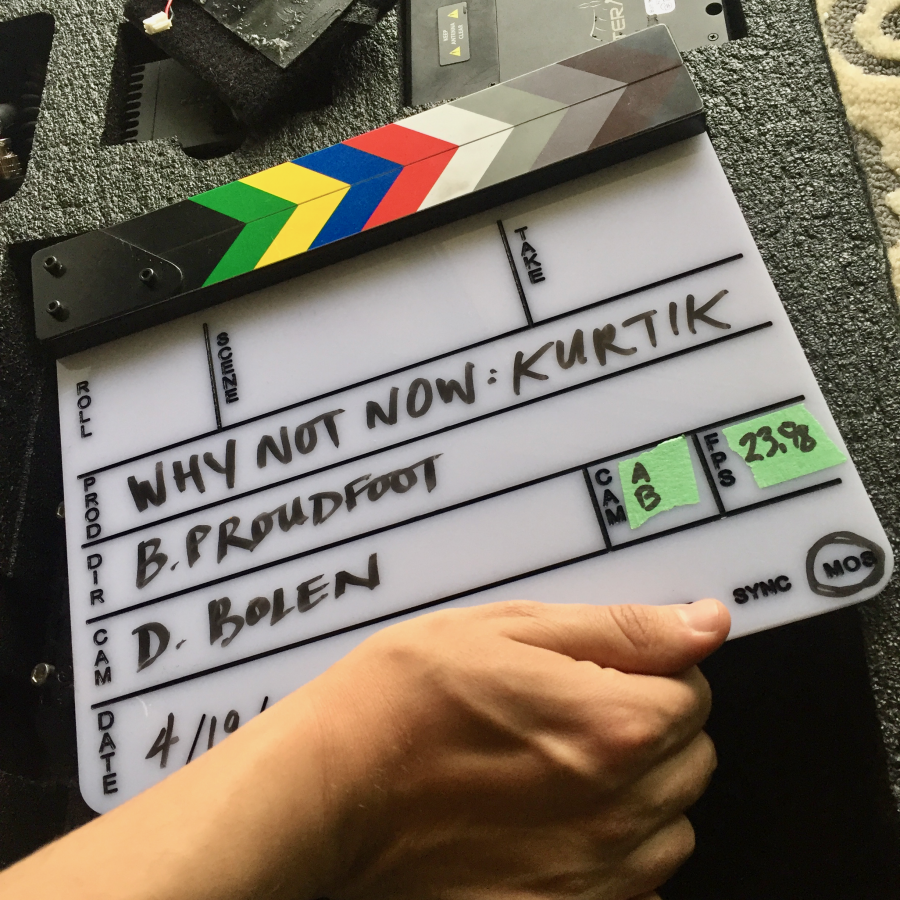 Being able to see Susan and Dick with their family and those kids was an incredible experience. In those moments it was easy to see what a difference they were making in the lives of each child. Like Susan says in the documentary, "I can't change that whole world but this can change the world of one person."
Eventually, Ben said we have to save these questions for the interview so we could get all this on film, so we did. We set up the interview and Ben and Susan sat down for a chat. As for me, I would've loved to stay and help, as experiencing those interviews firsthand really is something special, but there was work to do elsewhere.
We needed a location for the big finale. Ben wanted a dramatic cliff with the ocean and the stars. My job was to put pedal to the metal (safely, of course) and find a spot in the area to fit the bill. I must have spent about 5 hours and 2 full charges of an iPhone battery that day, driving from San Diego to Encinitas and back, scanning the coast for a good lookout point, hiking up cliffs and hills. It was an oddly foggy day in the San Diego area and I was a bit worried I wasn't going to find the perfect one.
And then it was there, right in front of me. Added bonus: the dang cliffs looked like a snapshot from the Curiosity rover up on Mars. So, I called Ben.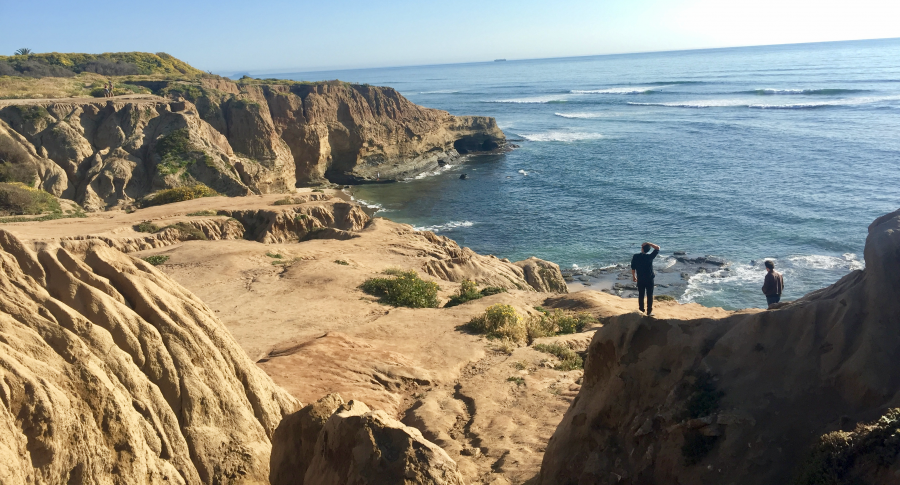 We brought Susan and Dick down, and had them climbing all over the place and they were the most best sports about it, doing everything they could because we promised them the shots were looking fantastic. What particularly stands out in my mind is David Bolen getting an idea for a shot and jumping on a cliff slope, camera in hand, and telling me to hold him by the belt to support. And hey, those shots were worth it.
(Pro tip: Never tell Bolen it can't be done. I haven't seen anyone foolish enough to say that to him yet, but still. Just don't.)
The shoot went well. Our mission, once we got back home, there was an email from Ben. Subject: CRITICAL MISSION.
Our task was to track down a copy of President John F. Kennedy's legendary Moon Speech he delivered at Rice University in 1962. "We choose to go to the moon in this decade and do the other things, not because they are easy, but because they are hard." It's the quote that stuck in Susan's head for her entire life, all the way through working for NASA at JPL and it's still in her head today. Now it's in ours, and it was a crucial part to Susan's story.
The problem is that the highest quality publicly available version is 720p at best. But this is one of the most famous speeches of all time. Surely someone has tracked down the original film and scanned it in 2K or 4K.
We contacted everyone we could think of. NASA. The National Archives. The JFK Library. My mom (again). A lot of SD copies and non-responses. It took a matter of months and a lot of emails, phone calls, and unexpected conversations, film scanning, and audio pulling. Eventually, it was clear that all roads pointed to the National Archives in Washington. A contact at NASA had helped me by giving me the two item numbers for the speech. We submitted a request to the archives and had the film scanned at 4K. Sadly, the scan we received back looked just like the archive.org version, but with 4K grain. Maybe this perfect 35mm version just doesn't exist.
We're about a week from launch at this point. We're dejected. Ben and I are on a flight and our plane neighbor was watching Hidden Figures. Who should be on the screen, but JFK himself, delivering the "We choose to go to the Moon" speech. Even on those tiny seatback screens, we could see: this copy of his speech was better than our scan. It looked beautiful, in fact. Where the hell did they get that??
Ben hurriedly tracked down the folks that were involved with the post on the film (HUGE thank you to Gregory Earls and Jennifer Chung from FOX), who were extremely detailed and generous with how they tracked down their version of the film.
That led us back to the archives with more detailed knowledge of what type of print to ask for. Turned out what we had scanned was not the original but a transfer print. It sure paid off, though only for about half of the footage. We are still working to get the original RSK (Reversal Silent Color film) of the first part of his speech. So what made it into the film is about 50% RSK and 50% INTPSK (Inter Negative Transfer Print Silent Color film). We'll get it. And when we do, we'll update our Vimeo file. And it will be glorious.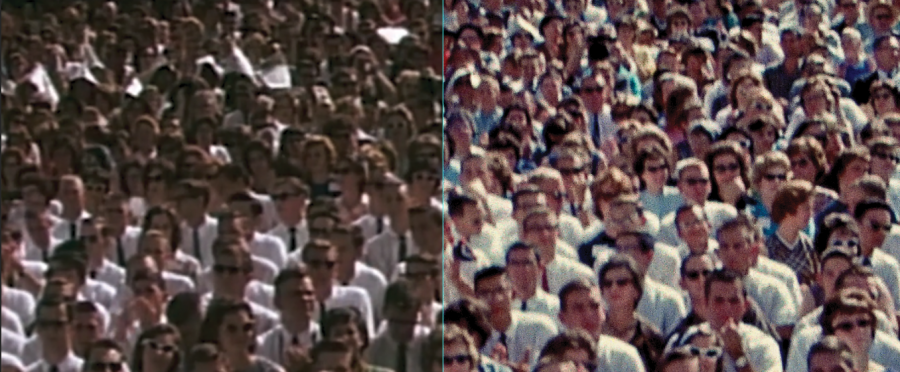 When our Composer-in-Residence, Nicholas Jacobson-Larson, began composing the score in his studio and I'd be lying if I said that I didn't linger in front of the studio door a time or two, listening in. For this film, as a part of an anthology of Breakwater films, we were able to score the films with a live orchestra of about 30 musicians — the greatest luxury a filmmaking team can imagine. We've been lucky enough to have done it a few times before, on Dinner with Fred and Rwanda & Juliet to name two.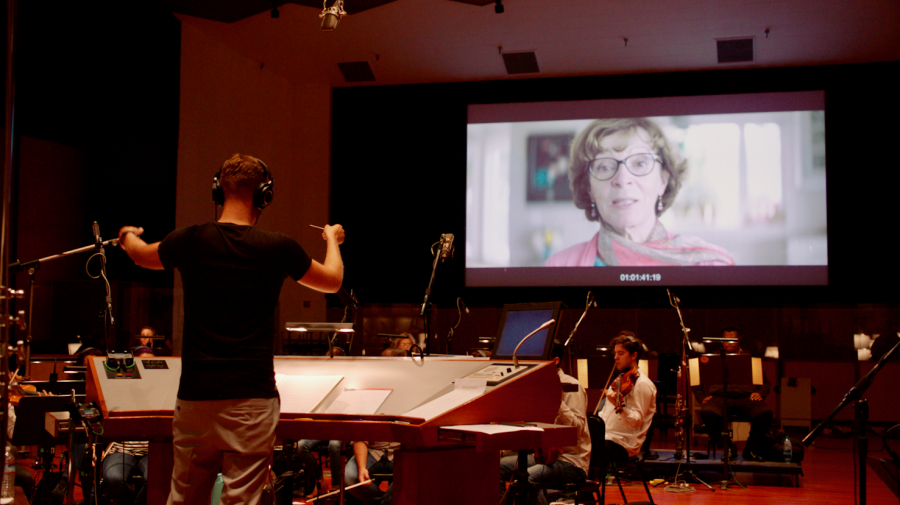 Nothing short of a magical experience to be in that room, listening live. Bolen came back to film it, and the whole Breakwater team was there to witness it. Everyone got to experience something that's rare to see, period, but unheard of in short form documentaries, for sure. But that's how we roll at Breakwater. It's an understatement but it really is emotional to pour so much into a project, remember those long production days and insane situations… and sit back to hear perfectly played original music unfurl in stereo right before your ears and eyes.
Of course, I was able to calm down for a bit and NJL (as we call him) was doing all the heavy lifting now, and he was a joy to watch, never missing a note. "Violas, on bar 136, one might imagine a lighter touch there…Brad, could we get the harp prelay in Gloria's cans?" Not only was NJL the film's composer and orchestrator, he was also the conductor and light-handed taskmaster of these world class musicians, all brought together by music contractor/Breakwater Godfather, Peter Rotter, who Ben & NJL have known for years. We even had Gloria Cheng on piano, who you might remember from a little film called Montage: Great Film Composers and the Piano. Many thanks to Brad Haehnel, Alessandro Saini, Jamie Olvera, Joe Z. from Joann Kane, Ryan Robinson, the WB Eastwood Scoring Stage gang, all of the musicians, and all of the behind-the-scenes folks that helped bring the score to life.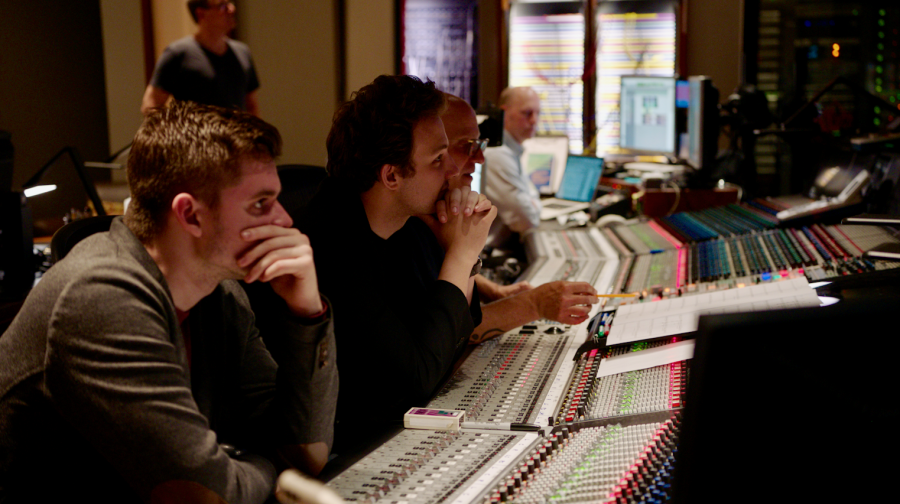 If you want to know what kind of magic we were hearing on the stage, below is an audio file of the score, alone, for your listening delight. Just as we heard it on the stage. Special shout out to trumpeter Robert Schaer for that gorgeous patriotic opening solo.
A filmmaking experience to be remembered. It was a joy to be around Susan and Dick, to hear their stories and spend time with their family. And now to share that story with the world. What a treat.
Please watch, share, and hey, drop us a line to let us know what you thought of Susan's story. Or tell us about that person just down the street who's always staring at the stars.
Have a question, or have an idea of what you want us to write about? Email jeremy(at)breakwaterstudios(dot)com.